Agricultural Value Chain Financing Experience from Eurasia Region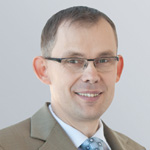 Date: September 8, 2016 (10:30am CET)
Presented by: Michael Kortenbusch
, (Managing Director, BFC)
Play Recorded Webinar
Michael Kortenbusch is the Principal Founder and Managing Director of Business & Finance Consulting (BFC). With 18 years of experience in banking and development finance, and 13 years as the Managing Director of BFC, Mr. Kortenbusch has guided and backstopped most of the 138 BFC projects, with a specific focus on the NIS and Eastern European regions. Over the last 5 years, Mr. Kortenbusch has been actively involved in agricultural, rural, and value chain finance, studying the increasing support provided to the development of this sector. Mr. Kortenbusch is leading and backstopping BFC's implementation projects on value chain finance, agricultural insurance, financial product development, and innovative delivery channel mechanisms; current projects include:
Financial Sector Program Value Chain Agro-finance
and
Kyrgyz Rural Finance Program
in Kyrgyzstan,
Support for the Financing of the Agriculture Sector
in Armenia,
Strengthening Core Functions of Strategic Planning and Credit Process for an MFI
in Tajikistan,
Agricultural Finance Programme
in Georgia,
Promoting Access to Finance and Agri-insurance for Agricultural Value Chain Actors
in Georgia,
Development of Financial System in Rural Areas
in Serbia, etc.
Also, Mr. Kortenbusch has more than 10 years of training design and delivery expertise, in topics including agriculture and MSME finance, strategic planning, and risk management. He is a prolific public speaker and contributor at international conferences, having attended over 50 conferences. Mr. Kortenbusch has authored numerous reports and publications on microlending, feasibility studies, institutional assessments and due diligence reports, as well as organized and delivered trainings and workshops on related topics.
Mr. Kortenbusch holds a Masters of Business Administration degree, he is native in German, and speaks fluent English and Russian.