Thank you to all of you who attended the ROI AG workshop and the panel at the European Microfinance Conference. 
All the results of ROI AG activities from 2016 can be found in the Library folder EMW-2016.
ROI AG Subgroups 2016-2017
Based upon the survey results from the beginning of the year,  ROI AG's focus was spilt into the following sub-groups:
Value Chain Finance

Agroinsurance

Non-Financial Services for Farmers

Social Aspects of Rural Development
With two additional projects in cooperation with other AG Groups:
Inclusive Green Rural Finance (

Microfinance and Environment AG

)

Digital Finance Learning Communication Platforms (

Digital Innovations for Financial Empowerment AG

)
Top Ideas from Brainstorming of 2017 ROI AG Activities      (e-MFP ROI AG Workshop, November 17, 2016)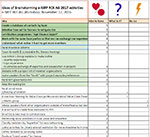 Create a database of contacts by topic
Weather forecast for farmers to mitigate risk
Create a certification programme: "Agri Finance Expert"
Work with the same local parties to exchange our experiences.
Understand what makes it hard to get more members.
Photo Protocol

Presentations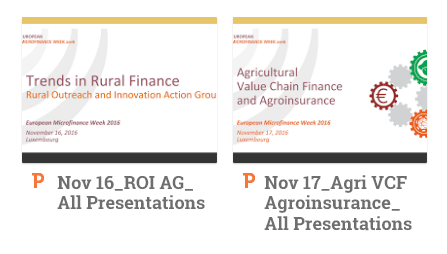 Photos

Over the past year, the BFC Team took the leadership for enhancing communication channels between members (and non-members) to present Trends in Rural Finance via the blog and across the 17 webinars/online discussions.
For the coming year, we would like to encourage members to show leadership with their own projects or to lead the existing ROI AG subgroups. Please act upon your own initiative to build collaborations amongst other members and work together to create impactful results.
For any questions, sharing of information, or support, please feel free to contact Marina Kortenbusch.