Cracking the Nut 2016 was a very successful event in Washington, DC. The conference took at look at changes being made to "regenerate" rural and agricultural market development and financial inclusion in developing countries. This means going beyond environmental conservation to regeneration and repair of natural resources upon which rural and agricultural communities depend.

Conference Publication bringing together the insight from speakers and participants. It looks at the lessons learned from development practitioners and private sector companies around the world.
Regenerating Rural and Agricultural Landscapes.
Financing Environmentally Sustainable Development.
Encouraging Investment in Climate-Smart Agriculture.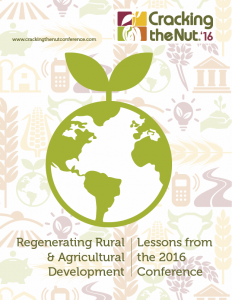 Here at Connexus, we've been reviewing and compiling what we felt were the important takeaways from the conference. We are pleased to announce that the conference publication from Cracking the Nut 2016: Regenerating Rural and Agricultural Development is now available online. The publication synthesizes the main lessons learned from the conference and highlights specific cases of innovative methodologies and technologies presented at the conference. Lawrence Camp of USAID, in reviewing the publication, found it to be, "fascinating…and exceptionally well-written."
It is our goal that this publication is used not only as a reference for lessons learned at the conference, but also to catalyze further discussions on this very important topic and incorporate the use of these innovations in ongoing rural and agricultural programs.
We would like to thank all of the speakers who assisted in refining the lessons learned as well as those who took the time to review the entire document. Please feel free to circulate the publication to others who might find it a useful resource.
Click to View Cracking the Nut 2016 Publication

Source: CRACKING THE NUT 2016