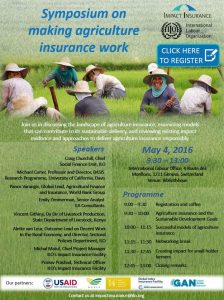 On May 4, 2016, the Facility and its partners are organizing a public symposium to look into successful models in agriculture insurance, and discuss key issues such as relevance for small-scale farmers and the role of governments to improve equity and sustainability of the schemes. The symposium will disseminate some emerging insights from the work of the Global Action Network (GAN) on Agricultural Insurance, a community of thought leaders in agricultural insurance managed by the Facility with the USAID/BASIS/I4; and good practices from the Index Insurance Forum, a community of practitioners in index insurance managed by the Facility with the World Bank Group's Global Index Insurance Facility.
Objectives:
The objectives of the conference are:
– to discuss the landscape of agriculture insurance and examine models that can contribute to its sustainable delivery;
– to review existing impact evidence and approaches to deliver agriculture insurance responsibly.
Agenda:
The programme lasts from 9:30 till 13:00 and includes sessions on:
– Agriculture insurance and the Sustainable Development Goals
– Successful models of agriculture insurance
– Creating impact for small holder farmers
Target audience
This conference targets insurance practitioners currently offering or are new to agriculture insurance, distribution channels, enablers, government players, and key stakeholders interested in learning about how to make agriculture insurance more impactful for rural households and farmers.
Click to Register